Florence – Travel Tips
Florence is like being in an outdoor museum
Florence attracts art lovers from all over the world. Great artists such as Dante, Leonardo da Vinci, Giotto, Botticelli, Machiavelli, Brunelleschi and Michelangelo lived and worked here. Walking around the streets of Florence is like being in an outdoor museum. The old center is virtually car-free. Even for someone visiting the city for the first time, it is easy to find your way around. The attractions are within walking distance in a compact center.
Florence was spared during the war and the legacy of the Renaissance can be seen everywhere. The magnificent Dome of Piazza Santa Maria del Fiore is the center of the city. The church is huge and gives a powerful impression. Florence offers a good mix of the old classic, and the modern elegant. Here you can view artistic world treasures and at the same time shop for clothes from the big, famous Italian fashion houses.
The city's success has long been the export of expensive fabrics and clothing. The Italians dress elegantly so it is easy to be inspired to renew your wardrobe. The price level is quite high and you won't find many chain stores. On the other hand, you can find a number of shops you will not find back home. Shoes and leather goods are of top quality, and here you can find a bargain.
If you don't want to spend time queuing to get into the museums, you should stop by these places:
The Dome. Not to be missed, stop at Piazza Santa Maria del Fiore and view the magnificent dome, Il Duomo, or Santa Maria del Fiore, as it is actually called. The huge dome is seen in the distance, and is a nice guiding star when finding your way around Florence. The dome was designed by the architect Brunelleschi. It was a great achievement to have this built in the years 1417–1434. Building a dome suitable for the church was seen as an impossible project. The church can accommodate 30,000 people. The Baptistery, or Battistero di San Giovanni, is octagonal and has doors with a bronze motif.
Uffici Museum. Located right on Piazza Signoria. Perhaps the world's most important art collection can be viewed in this huge gallery. Many famous paintings amongst others Birth of Venus by Sandro Botticelli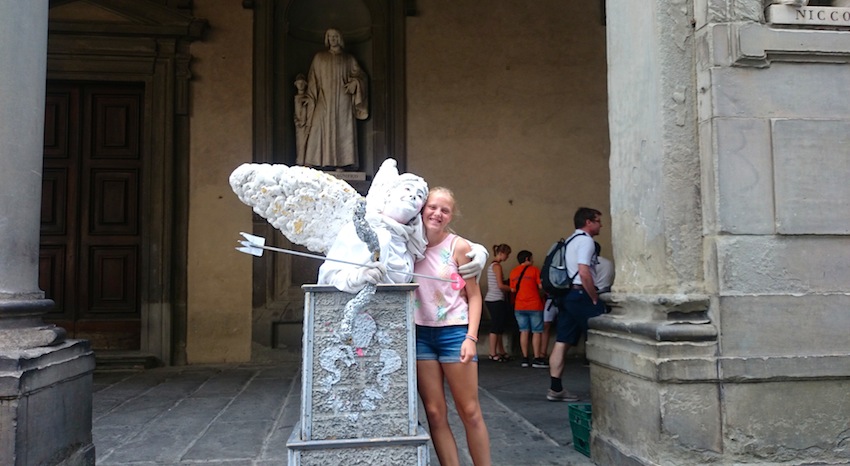 Piazza del Republica. The original city square in Florence, and also today the main square in Florence. One of Italy's largest piazzas.
Ponte Vecchio. Old and beautiful bridge (1345) that goes over Arno. Originally, this was a bloody street and a haunt for butchers. The Grand Duke of Tuscany wanted a somewhat more fashionable street. Today, the bridge is full of goldsmiths and jewelry shops.
View from Piazza Michelangelo, "on the other side of the Arno". Great views over Florence.
Fontana del Porcellino. Bronze figure of a wild boar. Place a coin in the mouth of the wild boar and rub it on the nose. Legend has it that it brings wealth.
Mercato di Centrale. Florences large food market hall.
If you have extra time, you can explore the quarters around Piazza San Spirito, the Boboli Garden and the old city wall from the Belvedere Fort down to the Arno.
Be on guard so you are not inflicted with "Stendahl syndrome"
The impressions in Florence can be powerful for many people, so be careful not to get "Stendahl syndrome". The affliction was named after the 19th century French writer Stendahl. After looking around Florence, he was left in such an ecstatic bliss of all the amazing artwork, that he subsequently sank into a state of total exhaustion. Hundreds of foreign tourists are said to have been treated for Stendhal syndrome in Florence. Should the symptoms show up, it is good to have an art break, and you don't have to go far to find a café or an ice cream parlor. If you are a morning bird and love fitness, start the day with a run. Then you can take in many of the attractions while the tourists are still sitting in the hotels eating breakfast.
Florence is beautiful no matter the season. We recommend the spring, autumn and pre-Christmas period. If you are staying in the district during the summer holidays, you should also set aside a few hours in this exciting city. Try to avoid Sundays and August, when the Italians also have time off and there are extra people in the city. If you are going to Florence on a day trip, we recommend that you take a train or bus. Then you do not have to spend time and money on parking.
Restaurants
Florence has many good and cozy restaurants. The price level for food and drink in Florence is above what you normally experience in Tuscany. If you travel a long weekend to a big city, you often wonder if you have to reserve a table in advance. If there is a specific restaurant you want to try out and you know that it's popular, you should of course reserve a table. We have generally been more satisfied with the restaurants we have stumbled upon, than tips picked up on tripadvisor and by bloggers. If we have seen a place that looks tempting, we go in and book a table for later in the evening or the evening after.
Imagine that we divide the center of Florence into two parts. One part is located north of, and the other south of, the river Arno. North of Arno are the train station, the Dome, the Ufficci Museum, the large piazzas and most attractions. South of the Arno (called Oltrarno, from "oltre l'Arno", which means "past the Arno") are, among other things, Piazza del Michelangelo, the nice vantage point where you can look out over the city. You should take the time to visit the pleasant streets south of Arno. Cross the Ponte Vecchio and follow Borgo S. Jacopo, Via di Santo Spirito and Borgo S Freddiano. These streets have a number of good restaurants and it's difficult to miss in this area. Prices are slightly lower than the restaurants on the north side. Many tourists do not move over to this side of the Arno, which is a shame.
A great tip is to book a hotel on the south side so that you "have to" explore this area as well.
Request an offer here: Hotels in Florence.
Florence has many good cafes and restaurants. Here are some tips, but this is by no means a comprehensive restaurant guide:
Restaurants North of Arno:
I' Mangiarino. Via dello Studio, 5R
Caffè Gilli. Piazza della Repubblica, 39. Fashionable and historic café. Sit outside and have a glass of prosecco while looking out over Florence's main square.
News Cafè. Adresse Via del Giglio, 59. Here you can get coffee with an art motif. How about a cappuccino with a picture of the duome? There is also free WIFI.
Mercato Centrale. Florence's store hall and food market. Located in the San Lorenzo quarter, 5 minutes walk from the Duome. Open every day from 10:00 to 01:00. Newly built in the spring of 2014. On the first floor you will find local butchers, producers of cheese, olive oil, balsamic vinegar, wine, fruit and vegetables, baked goods and much more. Here you can safely buy goodies to bring back home. Ask to have it vacuum packed. On the second and third floors there is a large selection of eateries for both lunch and dinner.
Restaurants. From the historic city center, and over Ponte Vecchio:
Olio Restaurant. Adresse Via Santo Spirito, 4,50124 Firenze,Italia. From the historic city center take a stroll over Ponte Vecchio
Angelino. Dinner and aperitivo in the bar. Via Santo Spirito 36
Il Santo Bevitore. Via di Santo Spirito 64/65. Lunch, aperitivo and dinner. Very popular restaurant.